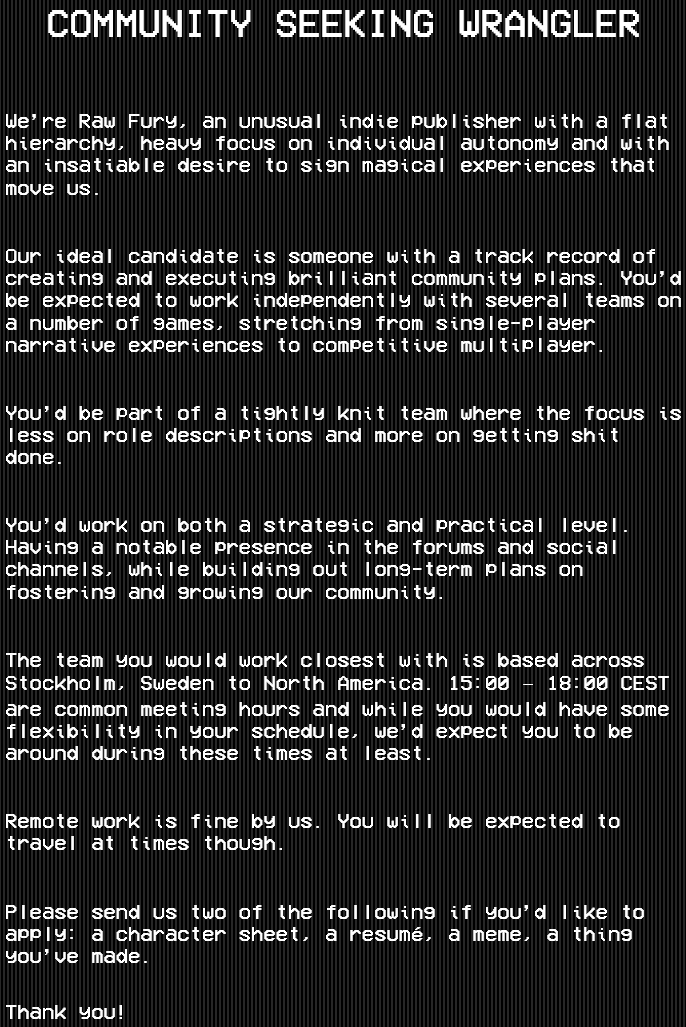 ---
We're Raw Fury, an unusual indie publisher with a flat hierarchy, heavy focus on individual autonomy and with an insatiable desire to sign magical experiences that move us.
Our ideal candidate is someone with a track record of creating and executing brilliant community plans. You'd be expected to work independently with several teams on a number of games, stretching from single-player narrative experiences to competitive multiplayer.
You'd be part of a tightly knit team where the focus is less on role descriptions and more on getting shit done.
You'd work on both a strategic and practical level. Having a notable presence in the forums and social channels, while building out long-term plans on fostering and growing our community.
The team you would work closest with is based across Stockholm, Sweden to North America. 15:00 – 18:00 CEST are common meeting hours and while you would have some flexibility in your schedule, we'd expect you to be around during these times at least.
Remote work is fine by us. You will be expected to travel at times though.
Please send us two of the following if you'd like to apply: a character sheet, a resumé, a meme, a thing you've made.
Thank you!
Additional information
Remote status

Flexible remote
Or, know someone who would be a perfect fit? Let them know!